MARK SCARPELLI AND DAN KEHDE'S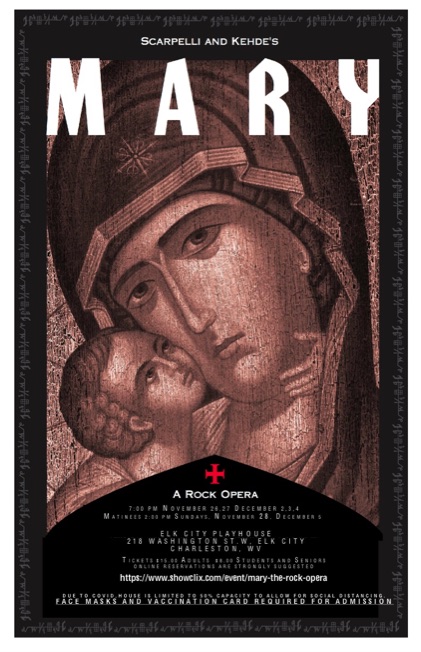 The story of Mary, Mother of Jesus during the 9 months prior to the birth of Jesus as told through her eyes, MARY, The Rock Opera, blends a driving score, great performances and a timeless story into a two hour production of lasting emotional content. Now, in it's 25th year of production, MARY, The Rock Opera features a cast including Maddie Wright as the title character, with Ted Rose as Gabriel, Jackson Sorrells as Joseph, Kim Javins as Elizabeth, Nik Tidquist as Herod , Dan Kehde as Zecharia and a talented chorus. Featured guitarists Andrew Winter and Christopher Carter bring the score to life.
Remaining show dates are Thursday, Friday and Saturday, December 2-4 at 7 pm and Sunday, December 5 at 2.
Due to CoVid, we've limited our audiences to 30 and are requiring face masks and vaccination cards for admittance.
Tickets , $15.00 for Adults and $8.00 for Students, are available online at
https://cyacwv.showclix.com .