Whose Body Is This, Anyway?
The Abortion Monologues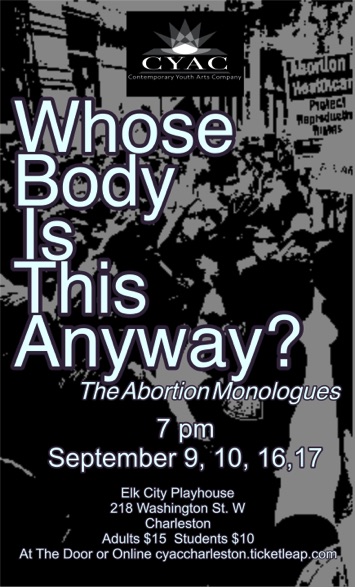 I got the idea for this show 6 months ago when I was working on another monologue piece "The Stoner and the Pot Plane." I had hopes that, if I offered the idea to two of my more radical female actors, they'd work to convey they're personal rage into works for other actors. Sadly, life and CoVid got in the way, along with jobs and classes and that particular iteration of the idea faded away. Still, when the SCOTUS made its decision against Roe, the idea resurfaced and took a stronger hold.
The opportunity to contribute was still open to some of the core CYAC actors, and I figured I could fill in with pieces of my own to round out the roster. Eventually, Nik Tidquist and Afton Myers brought me pieces in time for rehearsal and production and I took the remainder of the 15 monologues presented in the final form.
The seven actors in the production are great. Would you expect me to say any different? All CYAC veterans, the cast includes: Caroline Chamness, Kayla Skidmore, Sophia Mallory, Matty Connelly, Nik Tidquist, Beth Chambers and, replacing Sophia on week 2, Amanda Skidmore with Bill Raining taking on the role of God.
I suppose I should warn you that, because I've chosen to represent as many opinions from both sides as time allowed, there will be some uncomfortable moments. But then again, what's a CYAC show without an uncomfortable moment or two, right?
As you can imagine, this is definitely PG13 for language and content.
Hope you can make it!
https://cyaccharleston.ticketleap.com/